Excelled Beauty Treatments for Healthy Attractive Skin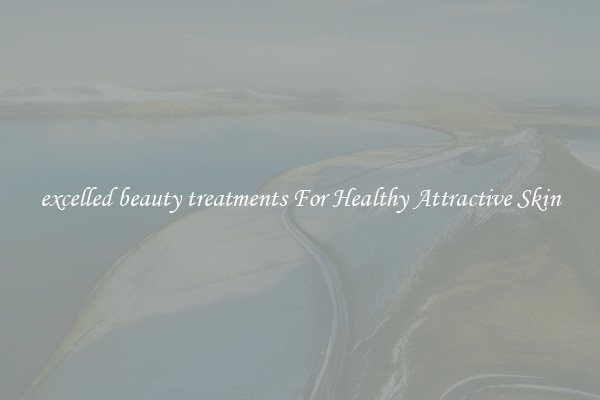 In today's fast-paced world, taking care of our skin has become more important than ever. We all desire healthy, attractive skin, but with so many skincare treatments available, it can be challenging to know which ones are the most effective. However, there are a few beauty treatments that have excelled in providing amazing results.
One such treatment is microdermabrasion. This non-invasive procedure involves exfoliating the top layer of the skin, revealing a smoother and more youthful-looking complexion. Microdermabrasion can help reduce the appearance of fine lines, wrinkles, acne scars, and age spots. By removing dead skin cells and stimulating collagen production, this treatment promotes healthy skin cell regeneration, resulting in a clearer and fresher appearance.
Another popular beauty treatment that has excelled in recent years is facial peels. These treatments involve applying a chemical solution to the skin, which causes exfoliation and removes damaged outer layers. Facial peels can improve the texture and tone of the skin, reduce the appearance of wrinkles and fine lines, and even out pigmentation issues. They can also stimulate collagen production, which helps plump the skin and reduce signs of aging.
For those looking for a more advanced treatment, laser resurfacing has become increasingly popular. This procedure uses focused light beams to remove damaged skin layer by layer. Laser resurfacing can effectively treat wrinkles, age spots, scars, and other skin imperfections. The treatment also stimulates collagen production, leading to improved skin elasticity and a fresher, more youthful appearance.
In addition to these treatments, advanced skincare technology has also made significant strides in recent years. LED light therapy, for instance, uses specific wavelengths of light to target various skin concerns such as acne, redness, and signs of aging. LED light stimulates collagen production and improves blood circulation, promoting healthier, rejuvenated skin.
Finally, one beauty treatment that has stood the test of time is a good old-fashioned facial. Regular facials can cleanse, exfoliate, and nourish the skin, leaving it glowing and refreshed. They also provide an opportunity for a professional esthetician to assess your skin's condition and recommend a personalized skincare routine.
It is essential to remember that while beauty treatments can provide fantastic results, they are most effective when combined with a proper skincare routine and a healthy lifestyle. Consistently cleansing, moisturizing, and protecting your skin from the sun should be a part of your daily routine.
In conclusion, excelled beauty treatments for healthy attractive skin can give us the glow and youthfulness we desire. From microdermabrasion to facial peels, laser resurfacing to LED light therapy, there are a variety of options available. However, it is crucial to consult with a skincare professional to determine which treatment is best for your specific skin concerns. Remember, healthy and attractive skin requires ongoing care and attention.