If you are in the retail business, then you know the importance of product displays. A well-designed display can attract customers' attention and promote your product effectively. And when it comes to displays, freestanding carton paper displays with custom designs are an excellent choice.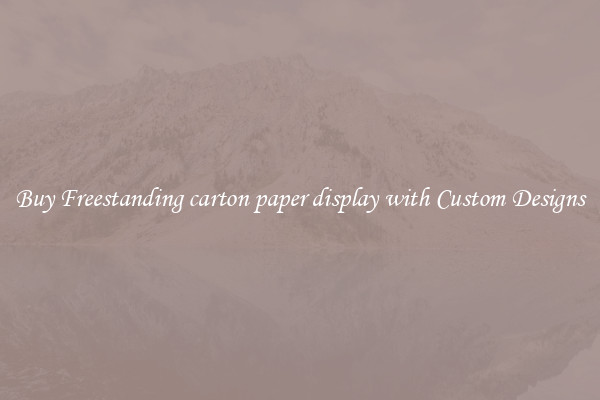 Carton paper displays are made from corrugated cardboard, which is not only lightweight but also sturdy. They can hold a considerable amount of weight and withstand wear and tear, making them durable enough for long-term use. Moreover, these displays are eco-friendly as they are made from recyclable materials, reducing environmental impact.
What sets freestanding carton paper displays apart is their versatility. They can be customized to match your product and brand, creating a unique and eye-catching display. With custom designs, you can incorporate your logo, colors, and brand message into the display, enhancing brand recognition and increasing brand loyalty.
Custom designs also allow you to present your product creatively. You can choose different shapes, sizes, and arrangements based on your product's characteristics and target audience. Whether you want a simple counter display or a larger floor display, the possibilities are endless with freestanding paper displays.
Another advantage of freestanding carton paper displays is their easy assembly. Most displays come pre-folded with clear instructions, making it effortless to set them up. This feature is especially valuable if you have multiple stores or need to relocate displays frequently. Quick assembly and disassembly save time, reduce labor costs, and ensure hassle-free operations.
Furthermore, freestanding carton paper displays are cost-effective. Compared to displays made from other materials like plastic or metal, carton paper displays are significantly more affordable. This affordability lets you allocate your budget to other marketing strategies or product development, ultimately benefiting your business's growth.
Not only are carton paper displays cost-effective, but they are also easily customizable. You can order displays in small quantities or bulk, depending on your needs. This flexibility allows you to experiment with different designs or cater to specific events or promotions. It also prevents unnecessary inventory buildup, reducing storage costs and minimizing waste.
In conclusion, freestanding carton paper displays with custom designs are an excellent investment for retailers. Their lightweight yet sturdy construction, eco-friendly qualities, and versatile customization options make them a superior choice for product promotion. With easy assembly and cost-effectiveness, these displays offer significant advantages for any business. Now is the time to elevate your product display, attract more customers, and enhance your brand's visibility with custom-designed freestanding carton paper displays.